The Product Certification Body of MPA NRW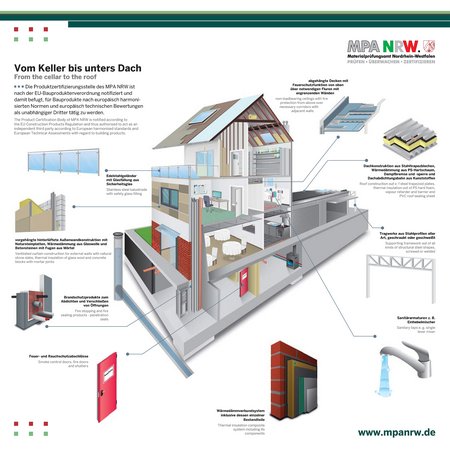 The Product Certification Body of MPA NRW is notofied according to the EU Construction Products Regulation and thus authorised to act as an independ third party according to European harmonised standards and European Technical Assessments with regard to building products.
Office
Yolanda Mota de la Cruz
Telephone: +49.231.4502-451
E-Mail: mota@mpanrw.de
Product certification: Confirmed safety
The MPA NRW offers its clients the legally required certification of products as well as a voluntary certification according to specified certification programm
Legally required certification of products
Many building products may not be introduced to the EU market if they have no CE marking. On the other hand the Ü mark is obligatory for many building products in Germany. It is also possible that both signs are required. The prerequisite for marking with these signs is the implementation of so-called conformity assessment procedures which are to guarantee safety and health protection when using the building products and also the security of the buildings. The certification of products also belongs to this procedure which usually implies product tests, the first-time inspection of the manufacturer's works, the testing of their work's own production control as well as the evaluation of these test results and subsequently a regular surveillance of the products, the work's own production control and the manufacturer's works.
The MPA NRW conducts further certifications prescribed by law for pallets, shelves and containers (so-called consumer products). These products also receive the well-known GS-sign (tested safety).
The MPA NRW has been acknowledged as a certification centre for building products by the German Institute for Constructional Engineering according to the building regulations of the Land NRW and according to the Building Products Act and has been notified with the European Commission under the ID number 0432.
The Central Office of the Federal States for Safety Engineering (ZLS) has vested the MPA NRW with the competence to certify consumer products.
Voluntary product certification
The MPA NRW offers voluntary certifications for many products according to specified certification programmes.
Manufacturers who want to demonstrate a high quality consciousness to their clients and therefore want to stand out against their competitors but also want to be on the safe side with regard to product liability in case of a damage especially make use of a voluntary certification.
More Information
Guidelines of the certification body for products
Certificate of conformity for building products (certification sample, pdf)